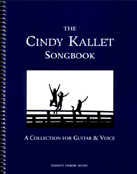 The Cindy Kallet Songbook
96 pages, spiral bound or eBook (2003). You may also buy sheet music for individual songs.
A collection of 32 of Cindy's original songs and instrumentals, lovingly transcribed by Cindy herself. Included in the book are vocal melodies, lyrics, tunings, guitar parts notated in standard musical notation as well as tablature, and suggested chords to use as guides for those wishing to strum along or make their own arrangements. Also features photographs by Alison Shaw, sketches by Arthur Blodgett, and archival family photographs.