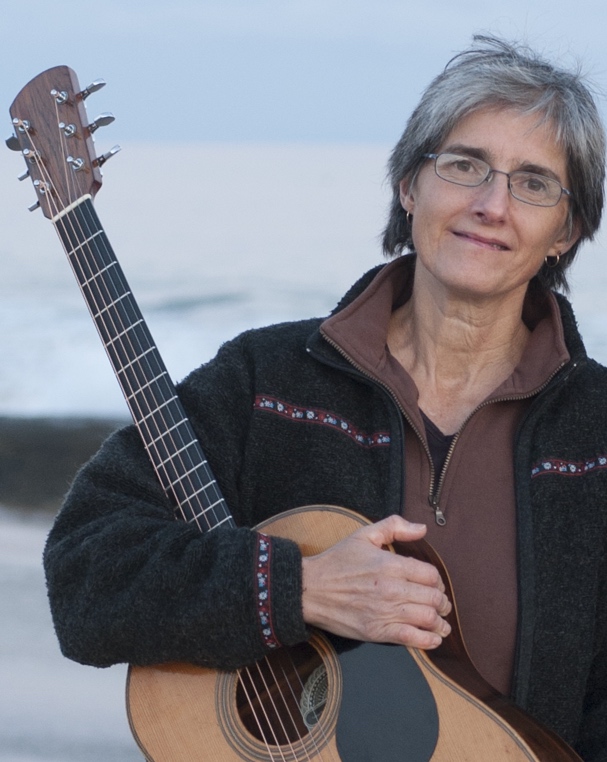 Cindy Kallet is a songwriter, singer and guitarist with five solo albums to her credit: Working On Wings To Fly and Cindy Kallet 2 on Folk Legacy Records, and Dreaming Down A Quiet Line, This Way Home, and Leave the Cake in the Mailbox – Songs for Parents and Kids Growing Up (chosen for the 2004 Parents' Choice Gold Award) on the Stone's Throw Music label. She has also recorded three trio albums, Angels in Daring, Only Human, and Heartwalk (Overall Music) with Ellen Epstein and Michael Cicone, as well as a collaborative effort with Gordon Bok entitled Neighbors (Timberhead Music).
Since 2004 she has combined musical forces with Grey Larsen. They have recorded two albums together, Cross the Water and Welcome Day, as well as a techno-folk single, Back When We Were All Machines.
Cindy has taught and performed extensively throughout North America. Her love for the natural beauty of the New England coast has been the inspiration for many of her songs. In 2003, she put together THE CINDY KALLET SONGBOOK – A Collection for Guitar and Voice, published by Stone's Throw Music. It contains words, music, chords, and guitar tab for 32 original songs.
Cindy says:
"I started playing guitar when I was eleven years old, growing up in New Rochelle, NY. My older brother Tony had left his old nylon-string guitar at home and one day I picked it up, learned three chords from the boy across the street, and was on my way! I had wonderful teachers who didn't even know they were teaching me, musicians whose guitar styles I absorbed by playing their records over and over to try and figure out their arrangements: Joan Baez, James Taylor, Joni Mitchell, Gordon Bok, Archie Fisher, Tom Paxton, and Doc Watson, among others. I had studied piano and violin from ages seven and eight and I think that a certain classical sensibility also contributed to my own evolving style. In addition, my brother Tony was an invaluable unofficial teacher. From around the age of twelve, when I first started writing songs, until I was in my late twenties, I would send him batches of four or five songs; probably 150 or so altogether over the years. He in turn would write detailed comments back, applauding the use of such and such a harmony line here or warning of the over-use of a particular musical phrase there. He was the one who really kept my guitar on its musical toes.
I've lived in a number of places and done a lot of different kinds of work since those days, zigzagging my way through New England – Martha's Vineyard, Vermont, western Massachusetts, and the coast of Maine. These days I spend time in both Indiana and Maine. I've been teaching guitar for many years and since the early 1980's have traveled around the country performing. When I'm at home I do dishes, shovel snow, work on the house, and teach guitar."